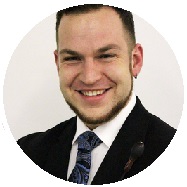 Angelo Sapienza – Director of Bands
Mr. Angelo Sapienza is an Instrumental Music Teacher and the Director of Bands at Doherty High School where he conducts the Concert Band, Wind Symphony, Jazz Band, and Pit Orchestra. He also teaches the Spartan Legion Marching Band and Pep Bands.
A Colorado Native, Mr. Sapienza earned his Bachelor's degree in Music Education from the University of Colorado Boulder and Master's degree in Music Performance from Colorado State University. As a performer, Mr. Sapienza was named a semifinalist in audition for 'The President's Own' United States Marine Band, and participated in five national tours as a member of the Blue Knights Drum and Bugle Corps.
Mr. Sapienza's most notable teaching influences include J. Michael Dunn, Stephen Dombrowski, Dr. Matthew Roeder, Dr. Rebecca Phillips, and Mark Arnold.
Before teaching at Doherty High School, Mr. Sapienza served as an Instrumental Music Teacher at Rampart High School instructing band, orchestra, and general music classes. He also taught at Colorado State University as a Graduate Teaching Assistant, and at Evergreen High School as a primary instructor for the "Cougar Pride Marching Band". He is an active member of the Colorado Bandmaster's Association, The Colorado Music Educators Association, The National Association for Music Education, and is an honorary member of Phi Mu Alpha Sinfonia.
Outside of teaching and performing music, Mr. Sapienza enjoys stand-up comedy, being outdoors, weightlifting, and Denver Broncos football.
Alyssa Ramirez – Color Guard
Mr. Robby Stroup – Color Guard
Kamilah Gobran – Percussion
Dan Parmentier – Percussion
Jackson Hosey – Drum Majors & Visuals
Taylor Townsend – Drill Writer
Robbie Billings – Program Coordinator
Jair Klarfeld – Marching Band Music Arranger